For many years that I have been involved in this hantaran making and wedding related business, I have been able to come across many clients with different preferences when it comes to sirih junjung for their bertunang or wedding ceremony.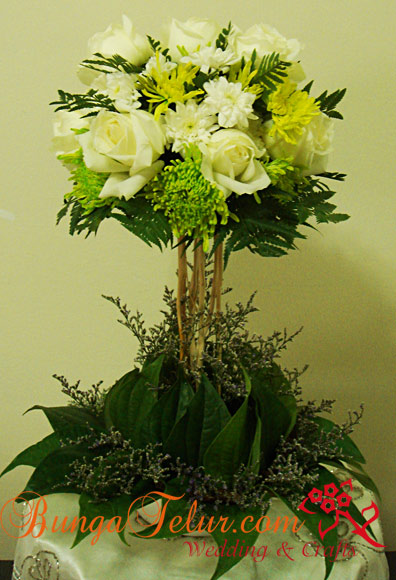 Of course I usually will try my best to cater to their needs as long as the materials are available and the price they are willing to pay are reasonable.
For this sirih junjung, the intial plan was to use a lot more sirih leaves. But when I went to the Indian supplier shop, I was only able to get around 30 pieces of sirih…(their last stock for the day..huhu!) Even the filler flowers are supposed to be different (I was hoping for white Gypsophila) but the florist said she only got that.
Well, I have to make do with whatever I have in hands thus the change of design. Luckily the client was happy to see her sirih junjung when she came and collected it for her next day akad nikah ceremony.
For this particular modern style of gubahan sirih junjung, I tried a topiary design. Note to myself: next time use at least 2 dozens of roses for the topiary. Luckily I bought white, yellow and green (I think they dipped in green dye) chrysanthemum as well otherwise the top part of the topiary will look really empty.