I have done this set of cream and green gubahan hantaran a few months back but I only managed to upload the picture of sirih junjung in the previous entry.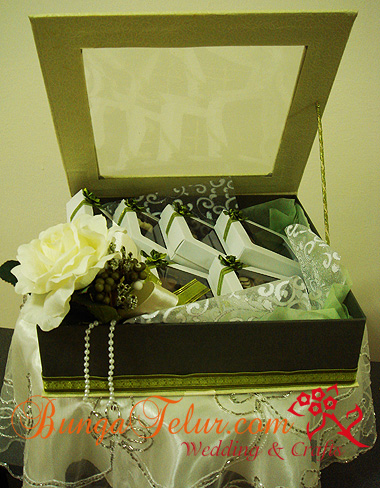 For me, completing these cream and green gubahan was quite simple and straight forward as I already have the paper box to put in the hantaran items. Of course I have to embellish here and there to make sure that the items won't look too bare. I put some tiny flowers and green ribbons at the top side of the chocolate boxes and arranged them nicely in the bigger box.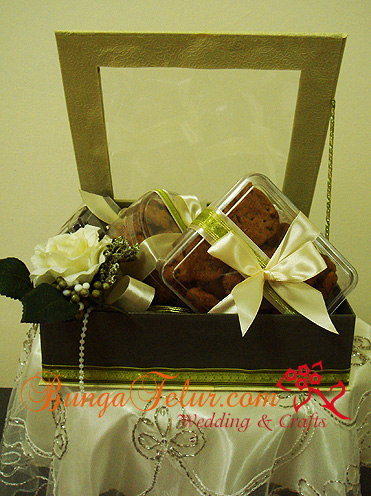 As for the cookies, the initial plan from the bride was to arrange them in their original plastic packaging from Famous Amos but when I did that, they just looked so out of place. So I found some transparent plastic packaging (which could be bought from shop that sells baking materials like Bake With Yen), rearranged the Famous Amos cookies in them nicely, tied some matching ribbons and placed them in the main box.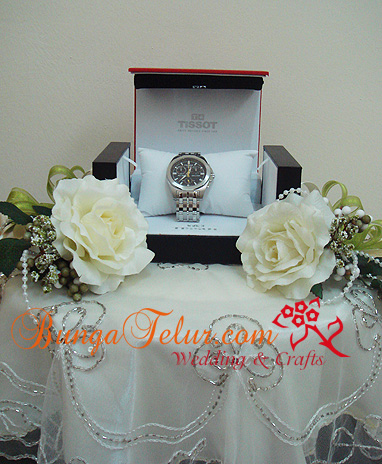 For the watch, I didn't touch up anything on the original box that it came in. I changed the position of the bunga dulang arrangement as if to accompany the watch box on each side. I believe that for expensive items, we need not crowd them with too much decoration, a simple one will make it more outstanding and look elegant.