This entry is still on gubahan hantaran with green and cream color theme. It took me ages to upload all the pictures due to slow Internet connection these days.
I think the idea of putting the hantaran materials in boxes are very practical as the bride and groom can always recycle the pretty boxes afterwards. I found a shop that specialized in making boxes in Puchong area and their price is very reasonable.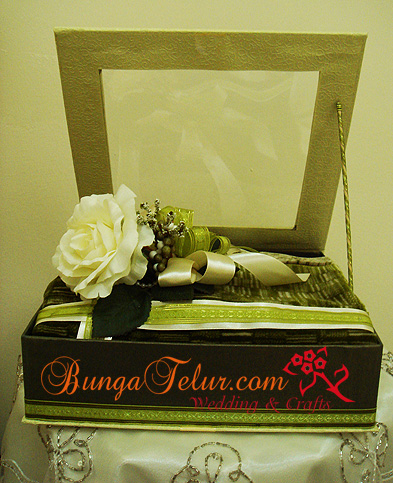 The above box was filled with thick sejadah (praying mat). I just lined the green ribbons nicely on top of cream satin ribbon and put the artificial bunga dulang at one side. I pinned the leaves of the bunga dulang into the sejadah so that it won't move on the wedding day itself…(you know how sometimes things go haywire with lack of forward thinking..heh!)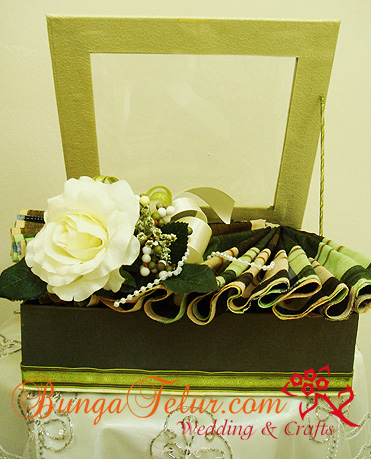 The second box was filled with sampin which I have folded into fan shape. Deep inside the box was kain pasang for baju melayu. In a way you can save space and minimize the number of dulang hantaran to be used during the wedding..(especially if you have to rent dulang and alas dulang separately)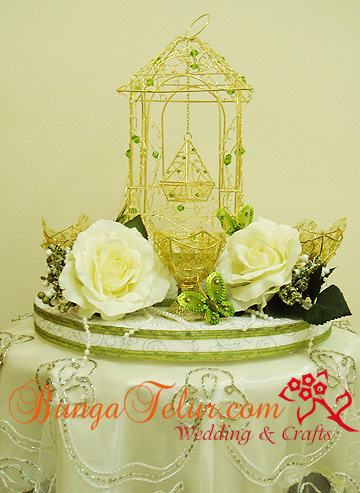 The bride couldn't find a miniature car to bear the ring for the groom. So I decided to buy this golden cage for bekas cincin as it was embellished with green decorative stones that could complement the wedding theme color. I also bought a few more golden wire cups which on the day before the wedding, I have filled up with bunga rampai made from old style daun pandan and rose petals.