I decoupaged this bottle for a craft contest last year. The theme is Christmas and 1Malaysia. The problem was I have no idea how to implement the 1Malaysia into the submission article, and of course I didn't win..heh! It never occur to me to put the 1Malaysia logo anywhere on the bottle or inside it..huhu!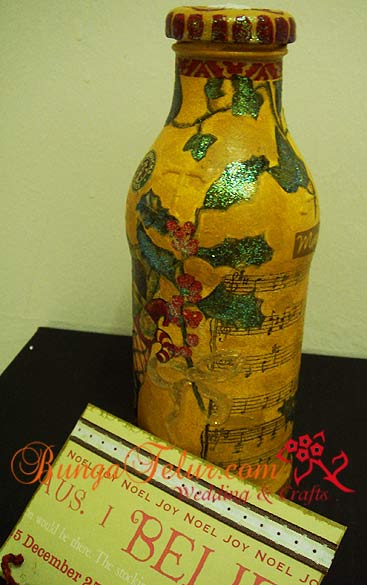 However doing this decoupage project gave me the chance to try many new materials and techniques. First, I learned on how to clean up the Tazo Tea bottle..(available at Starbucks at RM10.90 per bottle)

Some people soak their bottles in water and later scrub the labels. I tried that but it didn't really clear up the whole label glue. Hubby suggested to rub the leftover label glue with eraser. It did work fine but I feel that it was too much work and time consuming..huhu!
The best way is to use lighter fluid..(any brand like Zippo will do) Pour a bit on kitchen towel or directly on the leftover glue from the bottle label and scrub the glue out. After that wash your bottle with water and soap. Let dry.
I also used Plaid Glitter on this decoupage project. The effect is quite subtle and I think it suited the whole concept of this Earthy Christmas theme.
I hope I will have more time and effort to participate in any craft contest this year. From time to time, it's good to challenge yourself to something new.