I finally get the chance to snap and edit the picture of this decoupage apple tin. Well, it's actually an empty tin of button mushroom, which has been cleaned, sealed and painted with primer.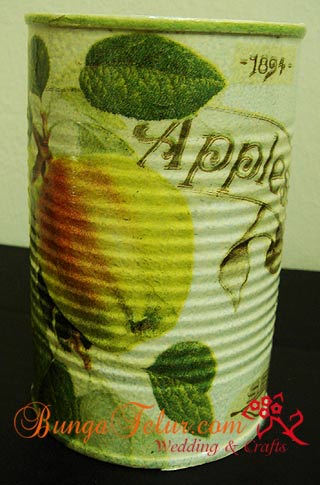 Remember the previous entry about the paper napkin with apple motifs? Here is the outcome after many days of working on the empty tin.
For this decoupage project, I used gloss varnish. After about 3 layers of the varnish, it looks really glossy. Actually I thought of applying opal dust on some of the motif, but I was in a rush and put on varnish after the second day of sealing all the paper napkin motifs..isk!
Maybe I will put on some just to experiment on what will happen if we put the opal dust after we already applied 3 layers of varnish. Will share later once I manage to find the time to do so.