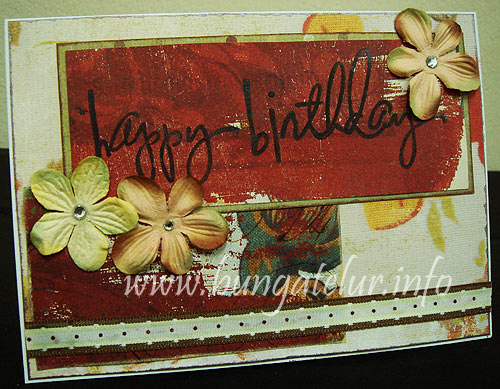 After almost 2 years of not doing any card, I decided to take part in a blog candy ran by Shirl Leong at her blog Craftee Guiri in conjuction with her husband birthday this coming 28th June.
Thanks to her blog I found another blog candy ran by Scrapbooking All Sorts – which ends on June 30th. Since the requirement is to submit any latest papercraft project, I think this birthday card will do for a start.
At first I wanted to make an easel card, but after searching through all the materials I have, I found a pack of unopened blank cards. Those white blank cards are 5 1/2 x 4 inch once folded..(which I think is quite small, as I rather love getting a bigger card)
Anyway, once I have completed the card, I realized that I should have put eyelet brads on the happy birthday sentiment before I attach it to the background..huhu!
Here are the recipes:
Paper : Daisy D No.13, My Mind's Eye Signature Suite- World of Play, Dotted Play/Ring Around The rosy, Wild Asparagus
Stamp: Heidi Swapp Happy Birthday
Versa Magic Chalk Ink – Midnight Black, Thatched Straw
Brilliance Pigment Ink – Pearlescent Crimson, Coffee Bean
Prima flowers, ribbon, clear rhinestones, Memory Book Glue Dots, Supertac Glue