I found about this challenge at City Crafter Challenge Blog while blog hopping to other scrapbookers' blog. I thought well, this frame I made about a few days ago should fulfill the requirement as it has flowers and lace.
The initial plan was to do decoupage on the wood frame which has been painted a few months earlier. But after I finish painting it I realized that I don't have napkin/serviette that suits the color of the background.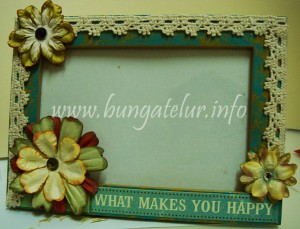 (Please click to view larger image)
Since I have so many old stash of Prima paper flowers, I decided to layer them on top of one another like what I've seen in a scrapbook magazine. Some combination does look good while others I have to keep aside for other craft I will make in the future.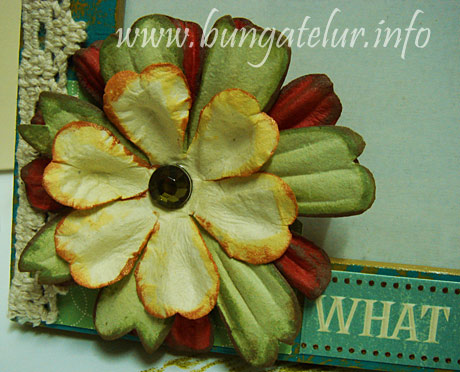 The edge of the flowers have been inked with chalk ink. I used Prima self adhesive crystals in the middle of the flowers. For the sentiment, I used sticker by K & Co. The lace is from Making Memories Vintage Hip Trims Gracen line. To ensure that the bottom left flower does not stick to the glass frame, I glued it to a piece of square sticker since I don't have any transparency sheet.
I am happy that finally this green turquoise frame is decorated nicely. I put a picture of our son in it and give it to Hubby so that he can put it on his desk at work.