After checking most of DT's LO I decided to scraplift Naddy's LO.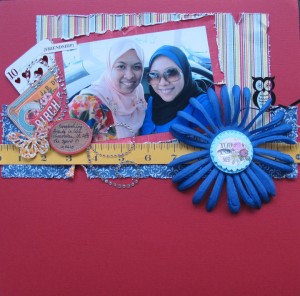 I noticed that she used layering technique for her simple LO and distressed most of the papers. Since I just bought Tim Holtz paper distresser from Papier on Sunday, I decided this is the kind of LO I should try for this challenge.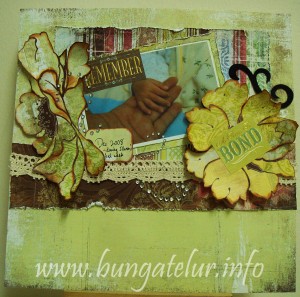 (Please click to view larger image)
I used patterned paper from Basic Grey Urban Couture (retired) which I have bought like 4 years ago. I was looking for paper that has something yellow and green, the same color as my son's blanket. Luckily Poplin suits the criteria. The stripy paper where I glued the photo on is Ratine. The photo was matted on Gabardine. Guess I was trying to used as much as patterned papers in the Urban Couture series for this layout..hehe!
For the embellishment, instead of using the usual stash of the Prima flowers, I decided to cut out those two flower pattern from one of the papers (I think it's Lux) and used them for the right and left side of the picture. I inked the edge of the flower using DewDrop chalk ink in Rust and quilled them a bit, just to make it stick out once pasted on the layout. I used sticker Roam Family Togetherness by K&Co as those words – Remember and A Time To Bond reflects the sentiments that I feel while looking at the picture.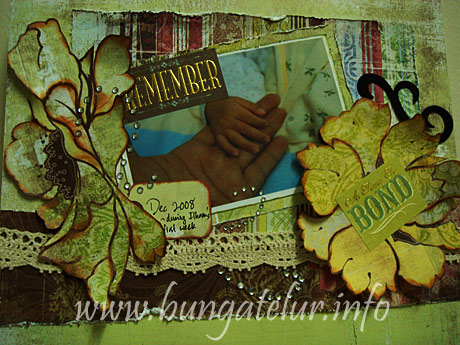 I also used the Kaisercraft rhinestones which were bought a few months ago. And thanks to the Tombow Mono Aqua Liquid Glue which was also bought at Papier, the whole glueing process, be it under the lace (using Making Memories Vintage Hip Trim), and layers of papers was a breeze. Perhaps I could do more layout in the future since I kind of have proper tools to speed up the scrapbooking process..heh!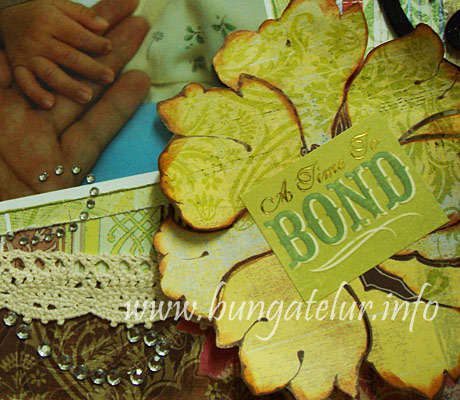 Next time I want to use either my handmade crochet flower or rose made using grunge paper as part of the LO's embellishment. Can't wait for the next challenge to enter..hehe!