Basic Grey Challenge blog is having another challenge. This time the theme is sparkle.
I really don't have anything sparkly (like Stickles or embossing powder) except for a bottle of Jo Sonja Opal Dust which I have been using on decoupage item.
This time I decided to try it on the chipboard and the felt fusion. Luckily it worked on those Bohemian My Mind's Eye chipboard and Queen & Co felt fusion.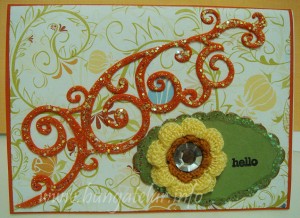 (Please click to view larger image)
Remember I mentioned earlier that I am going to use my own handmade crocheted flower in the next LO or card. Well, I managed to use one flower on the card above.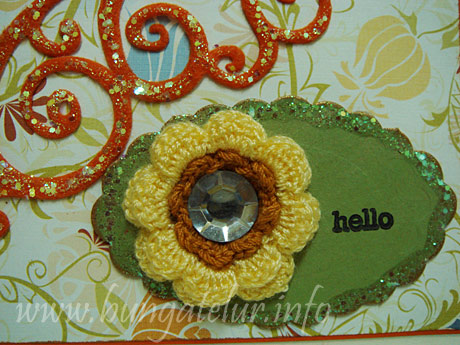 Here is the close up look of the flower. The only Basic Grey item I used for this challenge is the "hello" stamp. The patterned paper is Canopy Floral from Chatterbox. As usual most of the items used in this card are what I have in my stash for the past 4 years..huhu!
Oh, thanks to the eBay seller who gave me the bonus gift of Kaisercraft clear crystal. I was able to use the biggest piece of the crystal as the centre of my crocheted flower. It adds up the sparkle effect on the card..heh!
Updated on 16th Oct 2010:
I have found another challenge blog that allows people to combine challenge – Polka Doodles Week 40 Challenge – Make Your Own Embellishments.
I am entering this card for the challenge as I fits the criteria of making my own embellishments.