Please click on the image to view a larger version.
I have never done a card for fall/harvest theme. So when I found a few challenges that require such theme, initially I was really out of inspiration on what to do.
Thanks to Kathy of Kathy Winter Designs for sharing her wordart, I decided to print the sentiment and use it on my card. At first I thought of using digi stamp with image of pumpkin or anything related to harvest, but then I don't have any other tools to color the image..huhu! I guess in the end we have to make do with whatever we have, right? And be thankful for the opportunity to be more creative and improvise with the limited choices in life.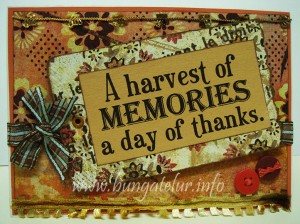 As part of the requirement by Basic Grey Challenges blog, I used Basic Grey patterned papers in the Stella Ruby collection. I have bought the pack for many years now and yet to open the packaging..huhu..what a hoarder I am! Luckily the Stella Ruby collection has papers in autumn color palette.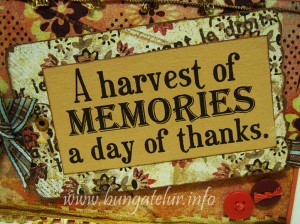 This is also the first time that I use patterned paper to embellish chipboard. Thanks to the tips that other scrappers share, I didn't paste the paper till the edge of the chipboard. Instead I inked the edge to cover the chipboard. It made my job a lot easier than having to trim the paper at the edge with craft knife..heh!
I also used buttons for the first time. This time I used buttons that already have adhesive at the back. Maybe next time I will try using raw buttons and learn how to tie the thread as artistically as possible.
I am also entering this card for Give Thanks challenge in Simon Says Stamp blog. I was hoping to take part in their Easy No Cook Recipe Challenge last week but I was too busy and missed the dateline.
Updated: I am entering this into Anything Goes Challenge at Top Tip Tuesday. Who knows I might be one of the lucky winners for the gift certificate!