I finally get to complete this challenge. For the month of October, the challenge at Pixie Dust Paperie is all about "SCRAP-LIFT". What I have to do is to pick out a creation from their DT from their October post, scrap-lift, and give it a new look with my new idea.
Since I hardly do anything shabby and pink, I thought I will try to scraplift the butterfly card by Lori Hairston. Check out her original entry here – Pixie Dust Butterfly Card.
It proves to be a real challenge, because seriously I lack of the right embellishment and tools. I don't even have a puncher to do the scallop, so I improvised by drawing a half round shape along the paper and manually cut it using scissors..huhu!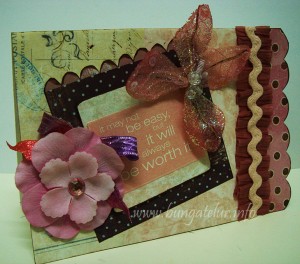 I rummaged through the stash of Prima flowers and hey, I found one item that looks like butterfly. Note to myself, I need to shop for more updated embellishment.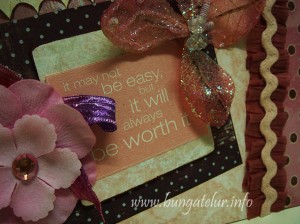 Luckily I could find some sentiment that is pink. I think it must belongs to Valentine theme. I covered the chipboard with patterned paper and put the sentiment sticker on top of it. I tried not to put too much embellishment because they seem to cover the sentiment sticker.
I am thinking of adding on sentiment like Congratulations For Your New Baby Girl or even Happy Anniversary later. Marriage and parenting certainly feels that way, sometimes it is not easy, but it is certainly worth it to fight for.
Updated: I am also entering this card for wee Memories 'Free for All' Challenge #29.