Rummaging through the old stash of scrapbooking stuffs I have for so many years, I decided to make this bookmark to give to a friend.
I don't have many choice of cardstock. It wouldn't be nice to have a flimsy, soft bookmark. The only cardstock I have which is good enough to be turned to a bookmark is the 6×6 pad from Making Memories Gracen. I used the Flower and Red cardstock for this bookmark.
Since I don't have a clear stamp with sentiment that is suitable, I decided to use one of the stickers from 7Gypsies line.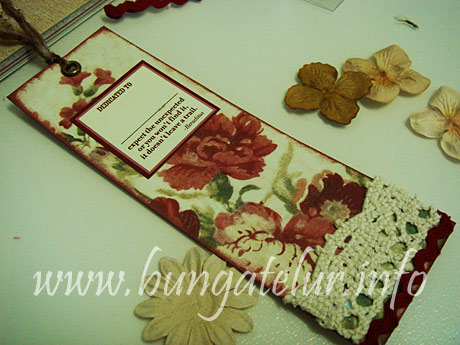 Using Making Memories Vintage Hip Trims – Gracen, Making Memories Vintage Hip 6×6 Pad Gracen -cardstock pattern Red and Flower, brad eyelet, fiber, 7 Gypsies 97% Complete Journal Stickers – Unique, Dew Drop VersaMagic Chalk Ink in Red Brick
The thank you card below was made for a crafter friend who has been so kind to me. She borrowed a tatting book from the National Library (even renewed it for another 3 weeks) and posted it to me so that I could learn how to tat. Since I needed to post the book back to her, I made this card to say how thankful I am for her good deed.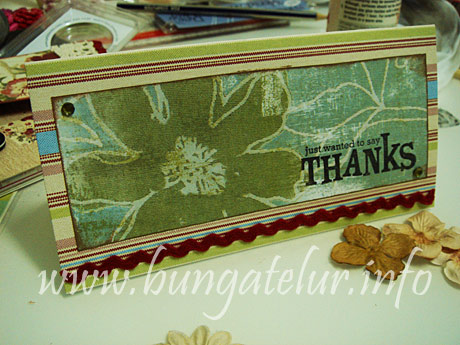 The card was made by folding the 6×6 cardstock in Stripe pattern in half. I stamped the sentiment using the newly bought clear stamp by Basic Grey. I used the maroon ric rac from Making Memories Vintage Hip Trims – Gracen as embellishment. I also put two crystals from Prima. Somehow I feel that their adhesive is not strong enough, it keeps on sticking on the plastic packaging instead on the back of the gemstones when I take out the pearl/crystal to use…very annoying for me.
The paper where I stamped the sentiment is from My Mind's Eye Wild Asparagus line. I am yet to use most of the patterned papers in my stash even though I've bought them since 2006..huhu!
I hope I will be able to make more cards and bookmarks in the future so that I could buy new collection of papers without feeling too guilty for not using them..haha!