The other day while on FB, a friend mentioned about hoping to get another hand made covered diary. I made one for her when we were like 14..haha! So while rummaging the stack of craft stash I have in my craft room, I found this A5 size notebook I bought at Daiso.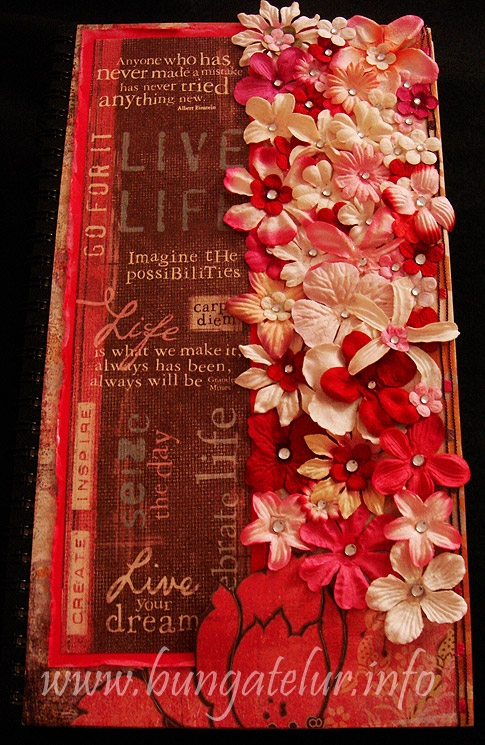 I've seen many crafters altered the cover of notebook and clip board. I thought perhaps I should try to make one. I also found the glossy Mod Podge I bought about 2-3 years ago. Since it should dry clear, I thought it will be a great tool to use to paste all the embellishments and the paper.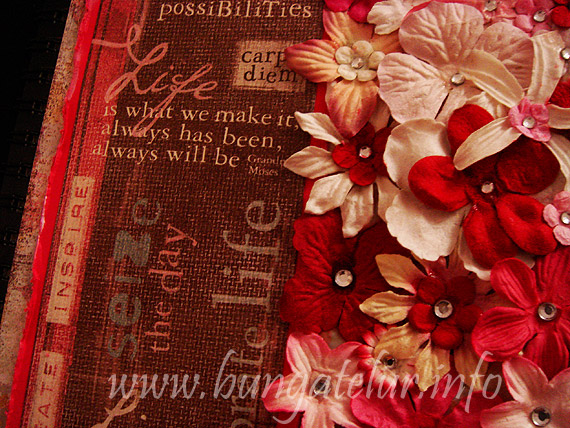 I've seen how Tim Holtz demo using Claudine Hellmuth Studio Multi-Medium, and was really tempted to buy one. But since I have this art resolution this year to make-do-with-whatever-in-the-stash-until-I-can-buy-a-new-one, I thought well, might as well give the Mod Podge a chance. Luckily it works just fine.
I used some scrap paper from Basic Grey Perhaps line as the background paper. I found a great sentiments sticker from Kelly Panacci (you know I am such a sucker for motivational wordings) and matted it with pink (fuchsia??) plain cardstock. I distressed the edge and inked it white.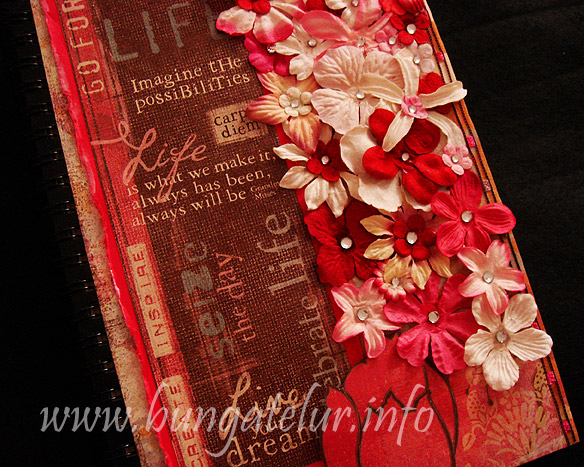 Lastly, inspired by a button video from twopeasinabucket.com, I decided to apply the Mod Podge at the right side of the cover and put as many Prima flowers I have that will go well with the color theme. I so love the outcome. Just to put on some more bling effect on the flowers, I glue rhinestones using the same Mod Podge. It dries glossy.
Now I am more excited to create more altered art notebook cover project like this. Next time I will look for notebook with plain black papers in them. Great for making art journaling.