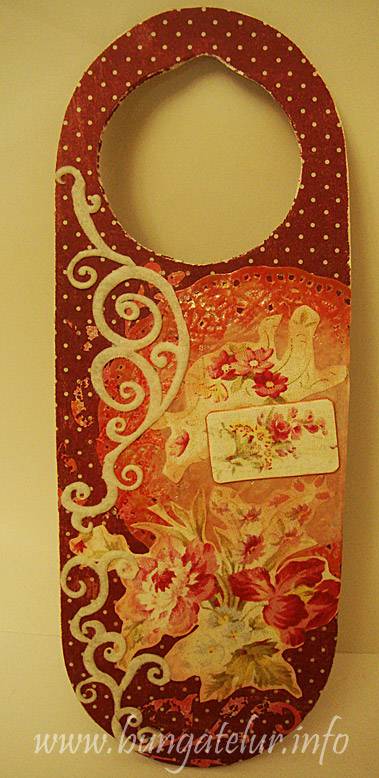 This is the first time I do anything crafty with door hanger. I've got one through decoupage gang gift exchange last year, but that one was using napkin.
I thought for the 3rd Week Scrap-It-Lah challenge I will do something decoupage like but using patterned paper instead. It is some rosy, shabby style pattern which I hardly use for scrapbook layout. I fussy cut the main flower, glued it down and inked around the image so that it blends with the background.
90% of the materials used for this altered work are some old stuffs I bought like 4-5 years ago. Oh, I get to use the Making Memories sanding block I bought to sand the paper all around the door hanger.
At first I used rub on from Bohemia line of My Mind's Eye to embellish the background but it was too subtle as the background paper is dark maroon. I dug out some old Queen & Co felt self adhesive scroll in white and arranged them to fit the left part of the door hanger.
I plan to stamp or use alphabet sticker to spell the name of the recipient on the top part of the hanger once I have decided who I will give this door hanger to.