Finally I managed to complete the final challenge for Scrap It Lah Anniversary Blog Hop…pheww!! (pat myself for a good job managing time and juggling life) The only weekly challenge that I did not manage to enter is the altered canvas because I was away on family vacation.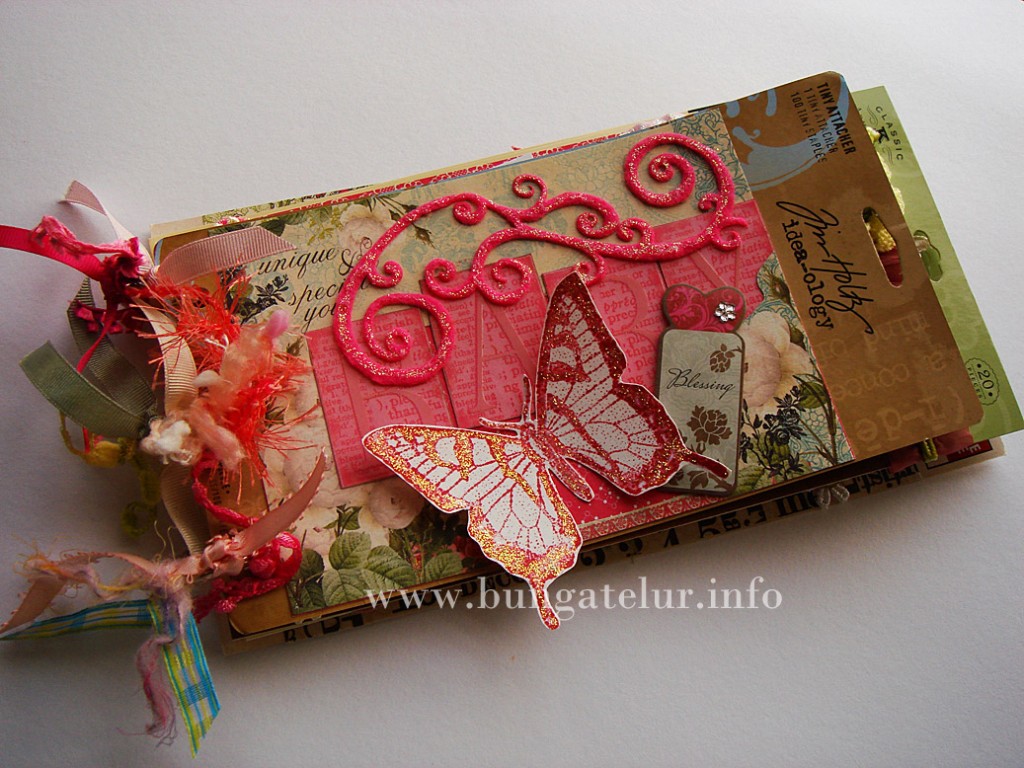 For a start I never thought we could do anything with the packaging. Since I haven't done any major scrapbooking stash shopping spree for years, I have to dig out all my old stuffs and see whether I can find the minimum amount of packaging required for this challenge which is 6. I managed to find 7 pieces, most of them are stickers packaging either from K&Company and Making Memories, one from 7Gypsies ring book cover and the latest is the tiny attacher packaging from Tim Holtz.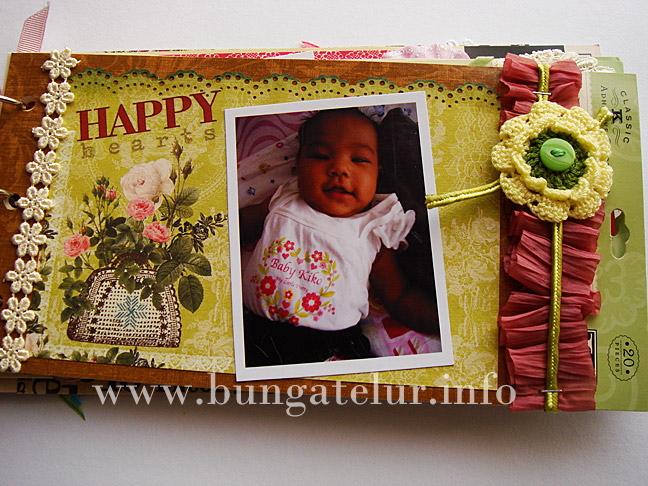 Next I contacted my niece asking for her permission to use her daughter's pictures as part of my mini album contents. She agreed and emailed me few pictures to choose.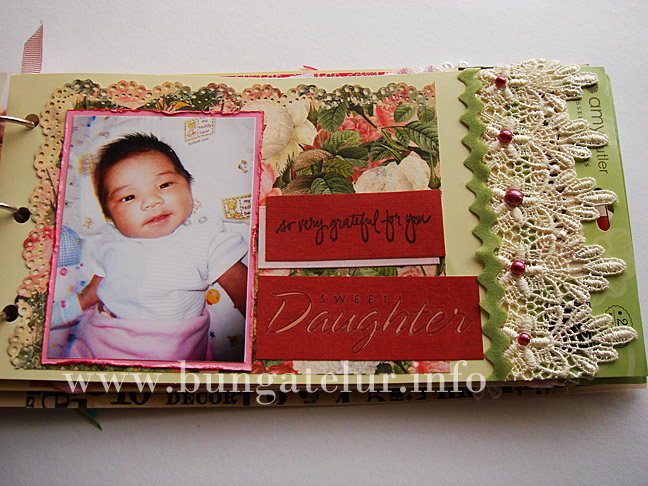 So here is my second grand niece..heh! She was born last year in December. I thought once completed, the mini album will be given to my niece as a gift. I am satisfied enough that I get to use all this pink girly stuff for my creation, after all I only have a son..haha!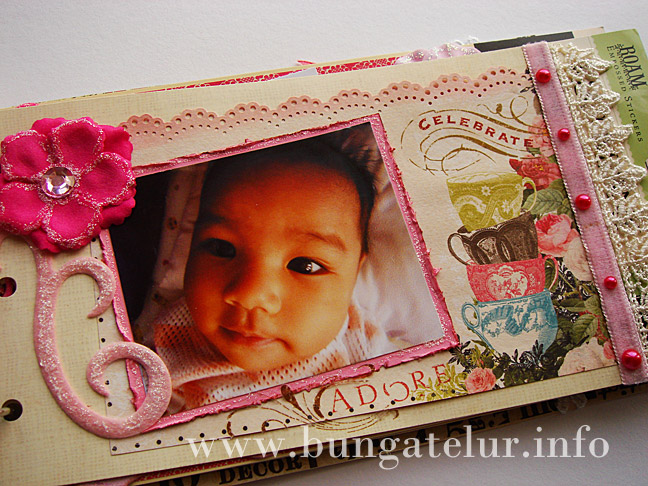 Note to myself, next time if I buy rub ons, I will use it as soon as possible. The old rub ons did not stick well to the layout. Some of the letters in the word could not stick smoothly no matter how hard I rub it, maybe the adhesive is gone after years of hoarding..huhu!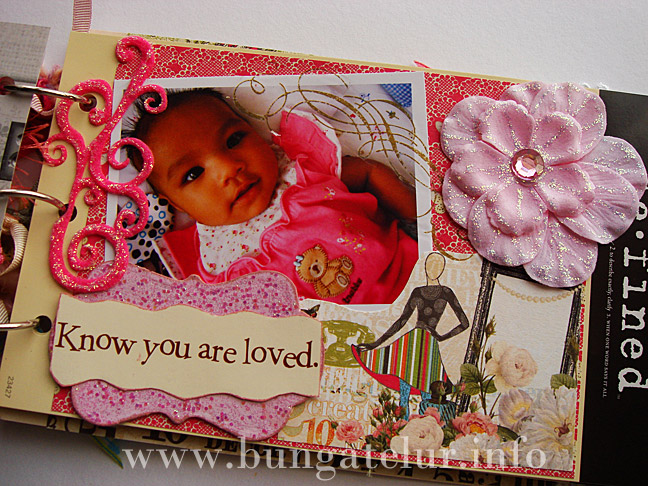 I used patterned papers from the Webster's Pages 6 x 6 TRENDSETTER Petite pad I bought last month online. This time around I have promised myself that if I find something I love I'm going to use as much as possible in my layout and cards.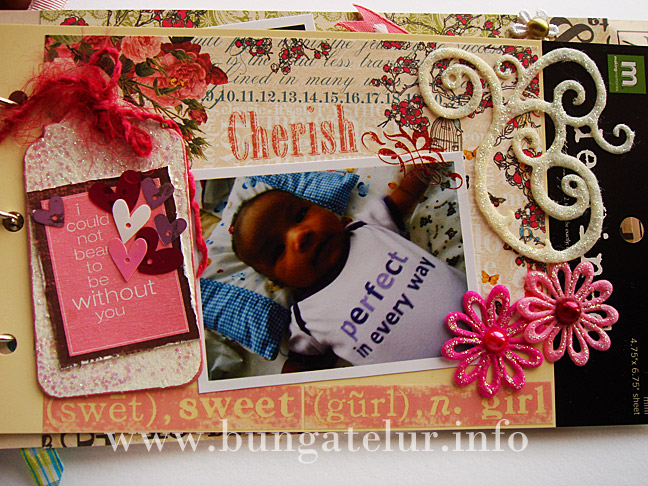 The lace and frills (as seen in picture 2, 3 and 4) were bought at a local handicraft store when I went shopping for my craft class materials early this month. For most of the pages I tried to put coherent embellishment like felt swirl and felt flowers. Of course as you can see, I have used a lot of diamond stickles in this mini album. Maybe I should get more color choices for stickles.
I also managed to use the old chipboards which have been painted in pink acrylic paint and later brushed with Jo Sonja Opal Dust. Most of the sentiments on the chipboards are stickers. I did not manage to print any journaling for this challenge. Maybe later I will ask my niece to have a look and see whether she wants to add some journaling in her own words.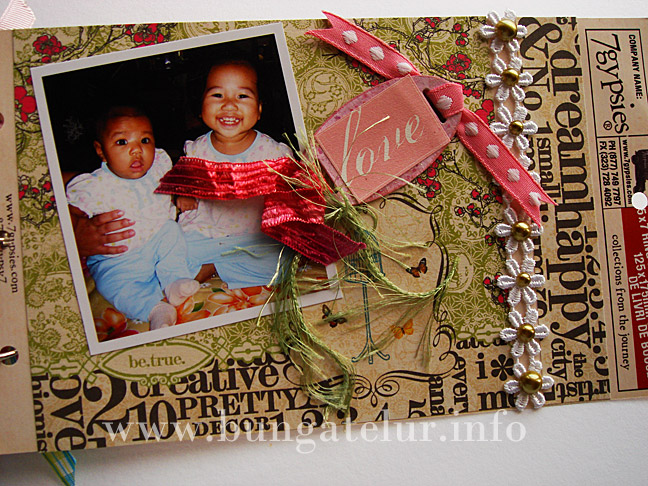 Oh, check out the bright smile of my first grand niece. Both of them happened to wear the same design of outfit but in different size. I didn't know that she has the same design when I bought the blue pink outfit for my second grand niece..heh! I just can't wait to see both of them grow up to be happy and cheerful girls. Nek Su love you girls so much!!