My neighbor gave birth to a new baby girl and brought home the bundle of joy in April. I thought of giving something handmade when I went to visit them so I quickly made this pink card the night before.
(Please click to view a bigger picture)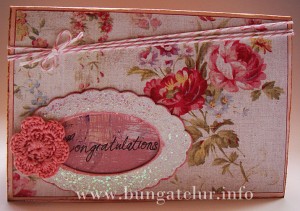 It might not be the most sparkly and shiny card that I've ever made, but I thought this should be entered into Simon Says Stamp Sparkle and Shine challenge. It has been a while since I've made a card for a challenge. The scallop chipboard was painted in pink and sparkled with Jo Sonja Opal Dust many, many moons ago for my experiment. When I came up with this baby card idea, I found the painted chipboard among my craft stash and decided to use it on the card as the frame for the sentiment.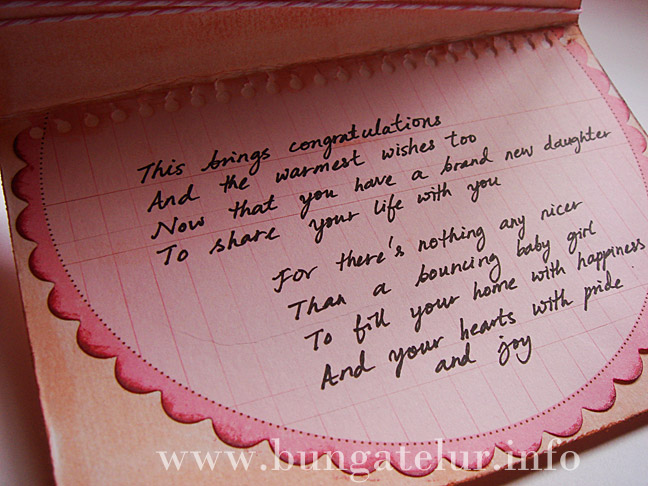 I also realized that the color used for this card is kind of monochromatic, all pinkish and very soft, unlike most of the scrapbook layout I've made before. Here it goes for The Shabby Tea Room Week 62 – Monochromatic challenge.
I think I should make more girlish and pink layout or cards in the future as it made me feel so happy inside. When you are living with men (a little man included) on daily basis for years, you tend to forget how to be a pink girl at heart..huhu!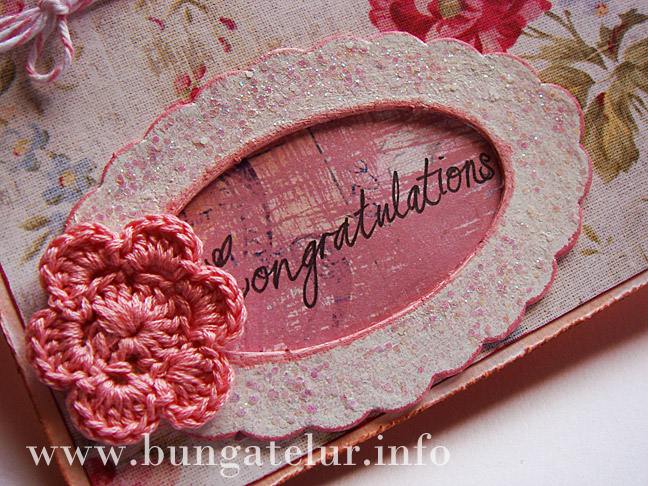 I didn't spend much time making this card so I thought using a handmade crochet flower will make it more special. I can't say much about my own handwriting though..it's been a while since I actually write something as long as a poem. (The most that I've done these days are perhaps scribbling groceries list..huhu!) What can I say, with the modern invention of keyboard and printer post college years, I am glad that I can still read my own handwriting..haha!
So here is another entry for Scraptivations Challenge 4 – use your handmade embellishment.