Good news everyone! Teacher Jessy has a Nook May's kit to giveaway. The Nook kit is filled with gorgeous Basic Grey Luscious collection as shown in the picture below.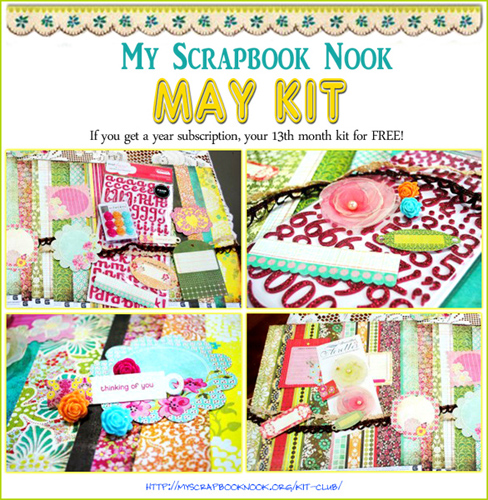 If you want to play along, this is what you have to do:
1. Be a follower of Teacher's Jessy blog.
2. Subscribe for the MyScrapbooknook newsletter.
2. Copy this entire information and post about this on your blog, together with the May kit picture and a link back to the post at Teacher Jessy's blog – Nook Giveaway .
3. Make sure you also post the information about the current offer at the Nook listed below.
4. You have until midnight May 31st, Malaysian time (GMT+8). One winner will be drawn randomly among the participants.
My Scrapbook Nook is offering a wonderful offer for a limited time only! Sign up for 6 months and receive the May kit for free……great deal, but good only while supplies last

Or Sign up for 12months and get the 13th kit free!!!!!!!!!

Kits value between $31- $34 – Yours for only $29.50. This way we ensure that you receive a fully loaded kit each month. We will also offer combined shipping with any add-ons or goodies from the store you need. Click the link for more info : http://myscrapbooknook.org/kit-club/

Tell a friend and if they sign up email us at [email protected] and give us your friends name and we will give you a $5.00 store credit.
So hurry up! Who knows you might be the lucky winner of one gorgeous kit from the fabulous kit club.