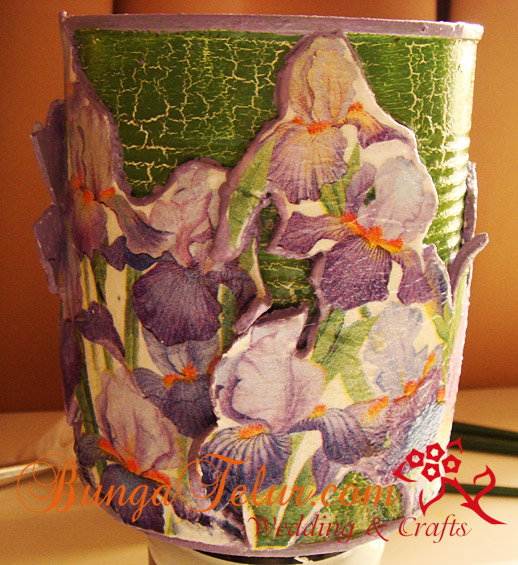 I've done the green crackled effect on the tin for quite some time. I thought I will just glue the iris motif from the decoupage napkin on the surface. However after I have pasted the purple flowers on green, the motif was drowned and it looks so bad..(err I should have taken some pictures to show how decoupage can go wrong..isk)
After thinking over the bad outcome, I decided to take out the air dry clay and start rolling the clay into thin pieces. Of course I need to cut another set of the iris motif for this makeover..sigh! After pasting the napkin motif onto the thin clay and cutting out the clay using craft knife, I quickly pasted each pieces on the tin. You have to do this before the clay dries out otherwise it will break.
The next day I colored the back of the clay which could be seen on the tin in lilac. On the third day I varnished the whole tin.
Next time if you want to use dark color for decoupage surface you can try doing this 3D decoupage technique. It is not that hard but certainly needs more effort compared to normal decoupage technique and takes longer time to complete the project.