(Please click to view larger picture)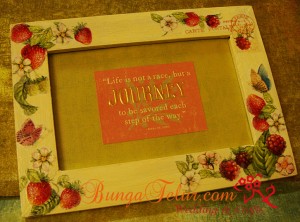 I made this picture frame as a farewell gift to a friend who migrated to Finland in January.
It was done in a basic decoupage technique. The wooden frame from IKEA was painted in Plaid Taffy and then I sealed the strawberry motifs. After that I varnished the whole frame.
For the inside of the frame, I used scrapbook paper and a sentiment sticker. Of course if the person wants to put any picture, the quotation can be removed later.