Please click on the image to view a larger version.
I recently joined Malaysia Rose Lovers Society since I have started gardening again early this year.
Their first event was to launch the society to public by opening a booth during Hari Belia Negara 2012 in Putrajaya.
I made this plaque with the society name on MDF board as a demo for the event. It was a brief session in which I showed to those who stop by at the stage on how to do decoupage on board like this.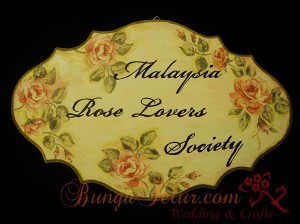 Later after the demo session was over, I handed the plaque to one of the society committee. They put this up at the flower arch. Nice, right?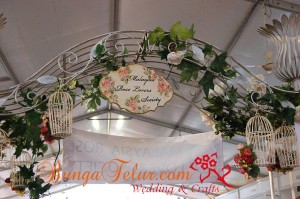 For those interested to learn on how to make a basic decoupage item like this, you are invited to join my class on 10th June, Sunday 3-5pm. The fee for the class is RM60 inclusive of materials needed for class. You can always bring home the completed decoupage item. For the class, you can choose either ceramic plate or wooden frame with mirror from IKEA.
Please leave comment or contact me via SMS if you are interested to join the coming class.