Please click on the image to view a larger version.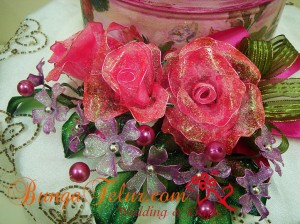 I did this for a bridal magazine photo shoot next week. This is one of the 4 DIY gubahan hantaran that I have to do for the photo shoot.
I've never done bunga dip in shocking pink and purple so I thought this will be a good time to experiment. After all I no longer take custom made order for bunga dulang so chances like photo shoot or class sample are the time for me to try something new.
A few months ago I did the basic petals in shocking pink because I wanted to make a hand bouquet. It didn't materialize because I was demotivated..huhu! So I decided to add on more petals and assembled them into roses, later this can be used as sample for my bunga dip class.
Bunga dip class for 17 June, 2-5pm is still available. If you are interested to make your own bunga dulang and bunga telur for wedding or engagement, join the class. The fee is RM100. Please contact via the phone number in the announcement box above or email me.