Please click to view a larger picture.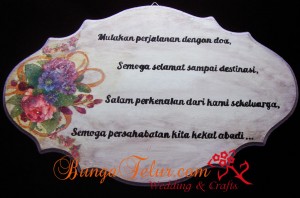 I made this plaque initially for a client but since it didn't complement her business color theme, I advertised it for sale.
A friend bought this and customized the wording on the plaque to be a 4-line Malay poems (serangkap pantun).
Luckily the decoupage flower motif is only on the left side, otherwise the pantun won't fit on the board..heh!
I hope the recipient of this decoupage plaque will be happy. It was my first time tracing and painting the long wording like this.
Oh, BTW decoupage class for July is still available. Hurry up and sign up for 15th July, 3-5pm session. The fee is RM60, you'll get to choose whether to learn decoupage on ceramic plate or IKEA wooden frame.