(Please click to view larger image)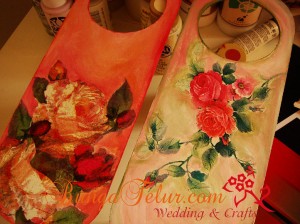 For the past 2 weeks (or more?) I have been working on these door hangers. I have 9 door hangers to be completed. Sometimes I am out of ideas on how to arrange and seal the decoupage napkin on that MDF pieces.
After I have chosen the design, I will have to sit back and imagine what kind of shading to be done on each piece so that it will suit the flower designs. Usually I will end up with safe color like red, pink and gold.
At times I try to come out from the safe zone and try colors like green or purple.
So what is your favorite color when it comes to craft?