(Please click on image to view larger version)
I was invited by Puan Hasnia from RTM1 for a DIY slot on Selamat Pagi 1Malaysia on Saturday 22nd September 2012. It was aired around 8:20am.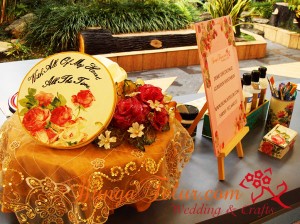 It was a first time experience for me to be on a TV show. I was told to be at Wisma TV, Angkasapuri by 7am.
After the make up session, I set up the table with some decoupage items and gubahan hantaran that I brought along for the show.
I was asked by the producer to show how to do decoupage on the material. The host was great as she only got to know about decoupage like 10 minutes before the show. I tried to inform her as much as possible so that she'll have some ideas on what to ask me.
Most of the question asked were expected but some I just have to come out with spontaneous answers..haha!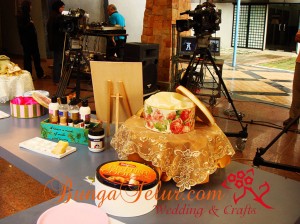 For those interested to combine both of the skills in decoupage and bunga telur making, you are welcomed to join my craft class. The coming class in October 2012 will be held on the 6th and 7th October. Please check the above announcement for details.