(Please click on image to view a larger version)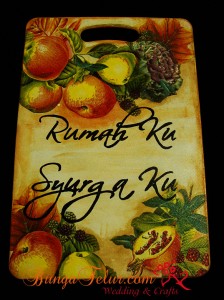 I have never done decoupage on chopping board before. This was done as part of the exchange gift program we did in Geng Decoupage group on Facebook recently.
I intentionally join such activity so that I will do something beyond my comfort level in craft.
After searching high and low for a suitable plastic chopping board, I found a good one in Daiso. It's quite a challenge for me to decide on the motif of the napkin since I've never done a kitchen related craft. Luckily I found some leftover napkin with fruits motif.
The initial plan was to make maroon as the main color theme but since the napkin motifs are mostly in brown, I have to change the color theme. To trace the wording on the surface of the chopping board is quite a challenge as well since the surface is not really smooth.
Overall I am quite happy with the outcome of this chopping board. Anyone interested to order a custom made chopping board like this with wordings of your choice, please leave a comment or contact me at farah[at]bungatelur.com.