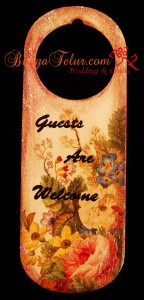 Someone ordered this door hanger for her guests room. I decided to try spattering technique on the background before I glued the decoupage napkin on the surface. Next time I think I will use dry spattering technique instead of wetting the toothbrush before dipping into the acrylic paint.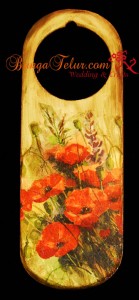 For the other side of the door hanger I didn't write any wording. I have been planning to use this vibrant orange poppy motif for some time and glad I managed to use it on this project.
If anyone is interested to learn the basic of decoupage using napkin/serviette, there will be class this 21st April, Sunday at 2pm. The fees are RM60 inclusive of all materials needed for the class. Please contact to get more info about the class. You can email me at [email protected] or sms at 012.648.2121.