I have been contemplating whether to enter this challenge held by Papier right from the beginning of December. Now that it's the last day of the contest, I thought I should just give it a try…otherwise it'll be one of my regrets this year..huhu!
The requirement for the challenge is as follow: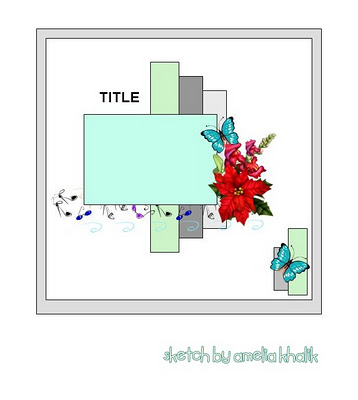 Create a 12'X12′ layout based on the Sketch above and to incorporate:
1. At least 1 Martha Stewart Puncher.
2. Minimum of 3 Pattern Papers.
3. Any product from Prima.
(Please click on the image to view a larger version)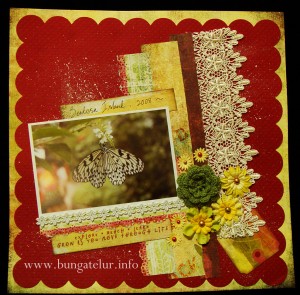 So here is the outcome, I used 4 patterned papers from Basic Grey and the doily puncher from Martha Stewart.
For embellishment, I used a tag from the Basic Grey collection, lace from my craft stash and as many Prima flowers that could go with the layout..(err I still have tons of those Prima flowers bought since 2006..sigh!!)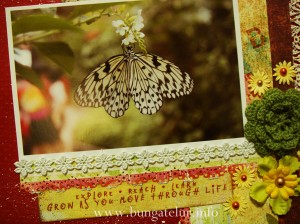 I decided to put the green crocheted flower I made this year since it kinds of blend in with the color theme.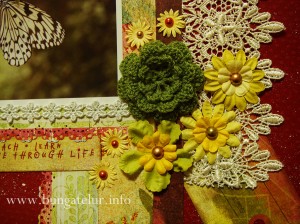 The picture of the butterfly was taken during our Singapore trip in 2008, way before my son was born. It was taken in the butterfly park in Sentosa Island. Hope in a few years time, we can go again together with dear son.
Updated: I am entering this layout to Anything Goes – Challenge 59 as well since I used patterned papers from Urban Couture and Stella Ruby Basic Grey collections 🙂